Company News
The latest trend of JMD Technology in the world
[Revealed] The Story Behind JMD's Record-Breaking Success
---
[JMD] China's premier post-press brand. A leading system solution provider in China's post-press binding industry and one of the global leaders in post-press binding equipment innovation.
The triumph of Olympic champions is built on countless days and nights of practice, and the fame of today's stars is paved with a road of bumps and hurdles. What then, lies behind the record-breaking success, continual orders, and consistent praise of JMD's Cambridge-12000? Let's take a look at the report from China's News Publishing and Broadcasting Journal to find out!
The Persistence of National Pride Behind the Record-Breaking Success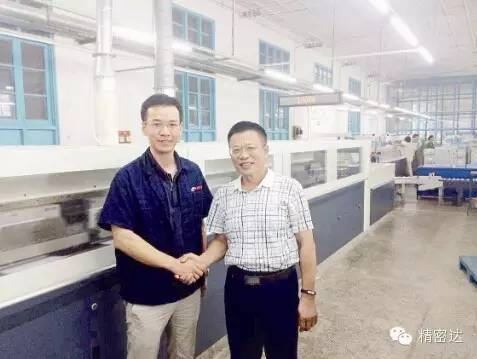 Chairman Xu Xiangyang (left) of Hunan Tianwen Shaoyang Company and Chairman Zheng Bin of JMD pose for a photo in front of the record-breaking adhesive binding linkage line
On September 1st, the JMD Cambridge-12000 adhesive binding linkage line demonstration meeting was held at Hunan Tianwen Xinhua Printing Shaoyang Co., Ltd. A news report from the company revealed that during the busiest autumn textbook printing period, the newly installed binding linkage line managed to produce a record-breaking 100,000 copies per shift and 200,000 copies per day.
The dual records shattered the current production records of domestic adhesive binding linkage lines, demonstrating the power of national manufacturing. Shenzhen JMD Machinery Co., Ltd. has once again proven that "only the national can be global". Like the company's name, JMD insists that only by achieving "precision" can we reach "success".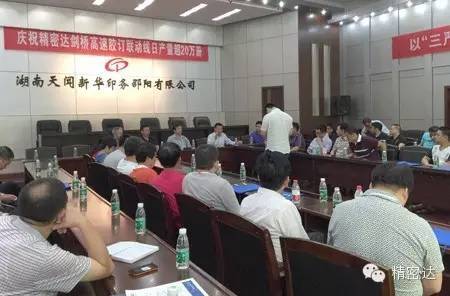 Live Demonstration Event Venue
Quality Reflected in Numbers
In the past, there was a deeply rooted perception: overseas, "Made in China" was synonymous with "low quality". Domestically, large-scale printing enterprises typically used imported equipment. Whether it was the long-established distrust in the quality of Chinese products or the traditional mindset of enterprises, both undoubtedly overshadowed the national brands. The breaking of these two records not only boosted the morale of book and magazine printing enterprises, but also once again validated the strength of domestic post-press manufacturing.
Since entering the market in 2012, JMD's Cambridge-12000 adhesive binding linkage line has successfully launched in many large-scale book and magazine printing enterprises. For companies like Hunan Tianwen Xinhua Shaoyang Co., Ltd. that have high production efficiency requirements, Chairman Xu Xiangyang stated in an interview with China News Publishing and Broadcasting Journal that their intention behind purchasing this line was to further enhance competitiveness, shorten delivery times, and save labor. He admitted that initially choosing domestic equipment over imported ones felt "somewhat risky".
However, after using JMD's Cambridge-12000 adhesive binding linkage line, Chairman Xu found that it fully met the on-line requirements in terms of cost-effectiveness and technical strength. "Due to the special nature of textbook and auxiliary printing, the peak production season only lasts a few months, and a large number of products must be printed in a short time. Therefore, the equipment must ensure a high-efficiency production cycle and also fit the company's equipment investment plan."
As an equipment manufacturer focused on post-press binding for over 20 years, JMD closely monitors changes in market demand. As Chairman Zheng Bin sincerely said, "The quality of the equipment is not described by our own language, but is recorded with actual numbers. At present, in the post-press field, we are confident that the level of 'Made in China' has surpassed European standards. The stability and reliability of machinery, and the advancement of technology have all reached the international advanced level."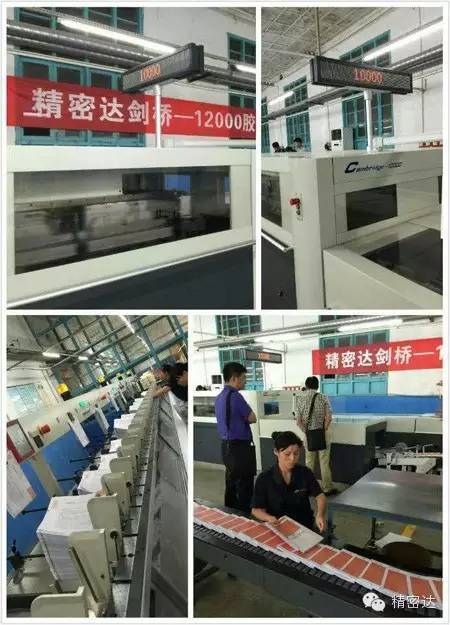 Live Demonstration Event Location
Brand Demonstrates Strength
Zhi Shuping, the director of the State Administration for Market Regulation, stated in the "Brand Asia" report that 80% of the global market share is occupied by 20% of the dominant brands. Looking at China's manufacturing industry, even though it has jumped to the top globally, the lack of dominant brands is an undeniable fact. From a manufacturing powerhouse to a strong manufacturing country, "Made in China 2025" seems to provide the answer: to reach the world's advanced level by 2025. In the development process of Chinese manufacturing, the government strengthens its guiding role, but market laws also play a crucial role. Ultimately, the success of manufacturing companies is the key factor.
Breaking two records and filling a domestic gap, JMD is facing intense market competition globally. For many years, under the heavy blockade of foreign brands, the development of national brands has been difficult, and many national enterprises have retreated due to their inability to resist monopolies and suppression. However, those national brands that exited the market were not lacking in strength, but rather in innovative spirit. Zheng Bin told reporters: "The development of high-quality foreign machinery and equipment has been gradual. Only by possessing an unyielding and innovative spirit can we possibly create world-class equipment and products."
Cambridge-12000 Adhesive Binding Linkage Line
This linkage line is one ofthe most advanced in the JMD portfolio. With a combination of high-speed, high-efficiency, and intelligent control, the Cambridge-12000 is designed to meet the most demanding production needs.
It offers:
- **High-speed production:** The Cambridge-12000 can run at a maximum speed of 12,000 cycles per hour, making it one of the fastest adhesive binding lines on the market. This high-speed operation helps companies meet tight deadlines and maintain high production volumes.
- **Efficient operation:** Thanks to its intelligent control system, the Cambridge-12000 can manage multiple operations simultaneously. This reduces the need for manual intervention and increases overall efficiency.
- **Quality output:** The Cambridge-12000 is designed to produce high-quality adhesive bindings. It features advanced gluing systems that ensure a strong, durable bind. This focus on quality helps companies maintain their reputations and satisfy their customers.
- **Versatility:** The Cambridge-12000 can handle a wide range of sizes and types of paper, making it a flexible choice for many different binding projects.
- **Cost-effectiveness:** Despite its advanced features, the Cambridge-12000 is designed to be cost-effective. Its efficient operation reduces waste and its high-speed operation means more production for each hour of operation.
- **Eco-friendly:** The Cambridge-12000 is designed with sustainability in mind. It uses energy-efficient technologies and complies with international environmental standards.
The success of JMD and its Cambridge-12000 adhesive binding linkage line is a testament to the progress of China's post-press binding industry. It shows that with determination, innovation, and a focus on quality, Chinese companies can compete on the global stage. It's a story of national pride, resilience, and the power of a brand to change perceptions and overcome challenges. This is not just a victory for JMD, but a victory for the entire "Made in China" brand.
Production Video