Company News
The latest trend of JMD Technology in the world
State Council Advisor Liu Yanhua and Team Visit JMD for Research and Inspection
---
On the morning of May 7, 2016, Dr. Liu Yanhua, an advisor to the State Council, accompanied by leaders from Guangdong Province and the city district, visited JMD for guidance and inspection.
Dr. Liu Yanhua and his team, accompanied by General Manager Zheng Bin, delved into the production workshop of JMD. They carefully reviewed the production status of the equipment and attentively listened to General Manager Zheng Bin's introduction of JMD's development philosophy, product R&D, and production situations. They also engaged in in-depth discussions and exchanges on topics such as product automation and intelligence, and the development status of the industry.
Dr. Liu Yanhua highly commended JMD for adhering to the "craftsman's spirit" of specialization and precision, solidly establishing a mechanical industrial foundation, achieving automation and intelligence on this basis, and daring to compete at the world's highest level. He emphasized that in this era, we need companies like JMD to calmly do their work step by step.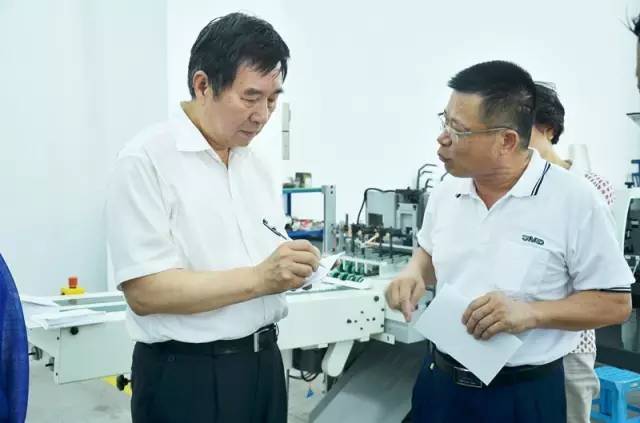 Dr. Liu Yanhua (left) attentively listens to Mr. Zheng Bin's (right) introduction.
JMD, focused on post-press for more than 20 years, has four major product lines including wireless glue binding, saddle stitching, lock line binding, and digital post-press. These products have entered more than 70% of large and medium-sized commercial and book printing markets domestically, making it one of the global leaders in post-press binding equipment innovation.