Company News
The latest trend of JMD Technology in the world
Exclusive Preview | JMD Partners with HP to Set New Standards in Digital Printing
---
Countdown: 4 Days! The long-awaited "PRINT CHINA 2019 (The 4th China (Guangdong) International Printing Technology Exhibition)" will kick-start on April 9th-13th in Dongguan, Guangdong.
JMD is making a big move! At Print China 2019, JMD, in collaboration with HP as their smart workflow partner, will showcase the solution for on-demand production of digital printing books and magazines at Hall 1 - Booth 1001. This solution implements a fully automated digital production process from pre-press file handling, digital printing, post-press binding, stacking, and trimming, truly achieving a one-stop production from printing to finished books.


Exciting Highlights Point One
HP Indigo 12000 Digital Printing Press + JMD Digital Robot 2000A Digital Binding Inline

Suitable for various users such as digital printing factories, publishing industry, and more
This solution offers the following advantages:
- Truly automated production from digital printing to finished bound books.
- Fully automated digital production process from pre-press handling, digital printing, post-press binding, stacking, and trimming.
- Utilizes advanced barcode systems to automatically capture production data and make necessary adjustments, greatly enhancing production efficiency.
- Can be seamlessly integrated or operated near-line/off-line, accommodating multiple digital printing machines simultaneously.
Exciting Highlights Point Two
JMD Digital Robot 2000A Fully Automated Intelligent Binding Inline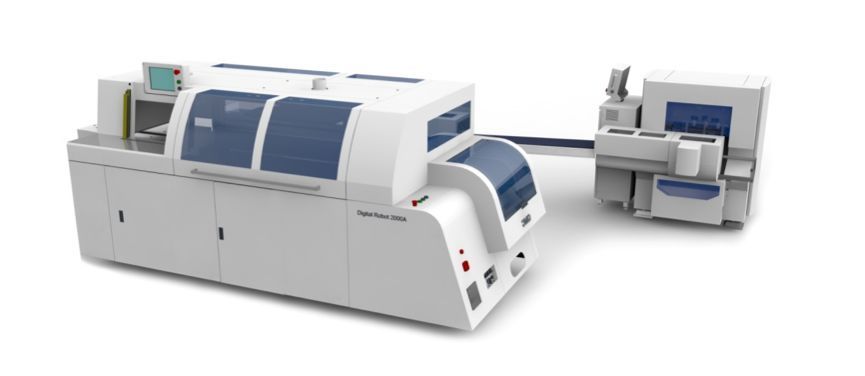 The following outstanding advantages will give you an edge in digital printing:
- High automation: Operators only need to input job parameters or use a book spine thickness gauge and barcode reader, and the machine will automatically make all adjustments.
- Quick and precise adjustments: Job thickness or specifications can be adjusted within 10 seconds.
- Powerful compatibility: Can handle different types of book spines, such as loose-leaf, adhesive-bound, and saddle-stitched spines.
- Inline production: Can be integrated with digital three-knife trimmers and book stackers to form a fully automated binding production line, significantly increasing production efficiency.
- Mobile glue pot design: With the mobile glue pot design, switching between PUR (polyurethane reactive) and EVA (ethylene-vinyl acetate) hot melt glue systems can be done in just a few minutes.
- Barcode cover-to-book matching technology: JMD's digital robot, Digital Robot 2000A, utilizes advanced barcode scanning technology to automatically capture production data by scanning barcodes on digitally printed sheets, ensuring the cover matches the book content.
Exciting Highlights Point Three

HP Indigo 12000
As the second generation HP Indigo B2 platform, the HP Indigo 12000 is not only the most versatile model in the Indigo series in terms of commercial applications but also brings innovations in print quality, application range, and operational efficiency compared to the first-generation HP Indigo 10000. It helps customers produce more printed materials while enjoying greater flexibility, higher quality, and enhanced reliability.
The revolutionary High Definition Laser Array (HDLA) technology in the HP Indigo 12000 digital press doubles the resolution, setting a new benchmark in print quality with 1600 dpi input accuracy. HDLA technology supports up to 290 lpi screen rulings, enabling better reproduction of details and smoother image replication.
Significantly Increase Productivity
This powerful 29-inch digital printing press supports virtually any substrate, making it suitable for a wide range of commercial applications and significantly increasing productivity. With precision automated tools, efficiency and uptime are improved.
Versatile for Multi-purpose Applications
Supporting a variety of substrates, it can be used for brand-new commercial applications, offering endless possibilities. With one-shot-transfer color technology, it supports specialty substrates.
Exceptional Image Quality
With the High Definition Laser Array, it sets a new standard for quality, surpassing offset printing. With double the printing resolution, it achieves higher smoothness in printing photos and high-end jobs, delivering lifelike, gallery-level print quality.